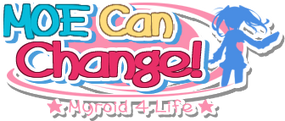 Welcome to the MOE Can Change! Wiki
Featured Pages
Raising your MyRoid

Edit

Daily Events

Edit

Player Resources

Edit
Latest News & Updates

2015-08-31
Edit
New event!
New Gacha!
Energy Drinks Limited Item Packs have been reset!
Get your hands on the super-rare and super-saver 25 Pack!!
"A Challenger Appears! Event" Rewards
Rewards have been sent to users' gift boxes.
The following Gacha have ended:
A Challenger Appears!" After Event Page
The "A Challenger Appears!" After Event Page will be available until:

EDT: September 1st 02:30
PDT: September 2nd 23:30
GMT: September 1st 06:30
Bedtime Outfits Added
The Bedtime Outfit system has been added!
Set a Bedtime Outfit for your MyRoid to automatically change into whenever you put her to sleep! She'll wake up bright, fresh and back in her normal clothes♪
How about using items from the Bedtime Gacha, for the perfect sleepy scene?

The Bedtime Outfit can only be used after reaching level 20.
Read the Past News.
Latest activity
Edit
Event in progress:
Thursday: Kanna's Secret Shop Opens Today!

Latest Gacha:
The Forums
You can find the MOE Can Change! Wiki's Forums here. Click here to create your own account.
Forum Activity
Monthly Poll
There is no poll for this month. Click here to create one!