Welcome to the MOE Can Change! Wiki
The MOE Can Change! Wiki is a wiki for information, guides and news related to the game MOE Can Change! We're hard at work to ensure we provide the best resource for English speaking fans of MOE Can Change! On the internet, and are currently working on making this site look even better and easier to navigate via mobile devices.
What is MOE Can Change?
"
MOE Can Change! is a fun game that will allow you to create and raise your own perfect girl. You will be able to change her looks, clothes and personality, have conversations, go out and share a lot of wonderful moments together♪
"

–Doc,
Featured pages
Edit
News & Updates
Edit

2015-05-22
Edit
New event!
New Gacha!
Energy Drinks Limited Item Packs have been reset!
"Fly in the Breeze! Koinobori! Event" Rewards
Rewards have been sent to users' gift boxes.
The following Gacha have ended:
Login Bonus Update
The Login Bonus items have been updated.
Previous Login Bonus items will become available again at a later date.
Lovestruck Login Bonus rewards will be sent for any currently active 30 day periods, but will not continue after that.
iOS Device Requirement Update
The iOS device requirement update has been delayed until a later date.
A notification will be posted once the update is complete.

Read the Past News.
Latest activity
Edit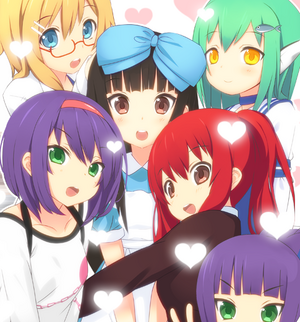 MOE Can Change! Cute girl raising game with over 1.5 million users in Japan now in English!
Event in progress:
MOE Can Paintball!

Latest Gacha:
Monochrome Circus
Power Unleashed
The Forums
You can find the MOE Can Change! Wiki's Forums here. Click here to create your own account.
Forum Activity
Poll
What gift item is the best?