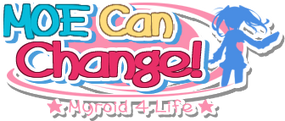 Welcome to the MOE Can Change! Wiki
Featured Pages
Raising your MyRoid

Edit

Daily Events

Edit

Player Resources

Edit
Latest News & Updates

2016-02-08
Edit
New Event!
New Gacha!
Energy Drinks Limited Item Packs have been reset!
"Travellers of Time! "Event Rewards
Rewards have been sent to users' gift boxes.
"Travellers of Time!" After Event Page
The "Eat, Drink & Be Merry!" After Event Page will be available for 48 hours after the last maintenance ended.
New Personality - Brash
A new personality has been added to the game!


The "Brash" personality is now available to change into. Watch your MyRoid transform into a strong willed, modern young girl! She runs into challenges head-first, often without thinking, knowing that she always has her trusty smartphone to get her out of a jam. She'll always speak her mind, be it compliments or insults, and doesn't like her time being wasted. She also happens to be a really big fan of a certain AMB Company Navi Girl, who she does like to copy now and again.
Try out the "Brash" personality today in our "My Secret Valentine" Event!
Outfix Fix The "Anmitsu Girl Pink" outfit was discovered to have been missing a green hem along the bottom of the dress.
This has now been added, and the outfit has been updated to reflect the change.
We sincerely apologize for any inconveniences caused by this error.
Read the Past News.
Latest activity
Edit
Event in progress:

Latest Gacha:

The Forums
You can find the MOE Can Change! Wiki's Forums here. Click here to create your own account.
Forum Activity
Monthly Poll
How long have you been playing MMC?