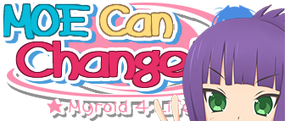 Welcome to the MOE Can Change! Wiki
Featured Pages
Raising your MyRoid

Edit

Daily Events

Edit

Player Resources

Edit
Latest News & Updates

2017-11-14
Edit
New Event!
Gacha!
Energy Drinks Limited Item Packs have been reset!
MyRoids of Oz Rewards & After Event Page
Rewards have been sent to users' gift boxes.
The MyRoids of Oz After Event Page will be available for 48 hours after the last maintenance ended.
Read the Past News.
Event in progress:

Latest Gacha:

The Forums
You can find the MOE Can Change! Wiki's Forums here. Click here to create your own account.
Monthly Poll
There is no poll for this month. Click here to create one!
Moe Can Channel! - Twitter
Ad blocker interference detected!
Wikia is a free-to-use site that makes money from advertising. We have a modified experience for viewers using ad blockers

Wikia is not accessible if you've made further modifications. Remove the custom ad blocker rule(s) and the page will load as expected.