Home
Talk

0
185pages on
this wiki
Welcome to the MOE Can Change! Wiki
The MOE Can Change! Wiki is a wiki for information, guides and news related to the game MOE Can Change! We're hard at work to ensure we provide the best resource for English speaking fans of MOE Can Change! on the internet, and are currently working on making this site look even better and easier to navigate via mobile devices.
What is MOE Can Change?
"
MOE Can Change! is a fun game that will allow you to create and raise your own perfect girl. You will be able to change her looks, clothes and personality, have conversations, go out and share a lot of wonderful moments together♪
"

–Doc,
Featured pages
Edit
News & Updates
Edit

2014-11-12
Edit
New event!
New Gacha!
Increase the Friend Message Character Limit!
Character Limit for Messages has been increased to 50 characters. But that's not all...!
Logging in for 7 days in a row will now increase the character limit of messages that you can leave on your friends' pages from 50 to 140.
Missing a day will reset the limit back to 50 characters.
You can check if your bonus is active and if not how many days you need when writing a message.
A system to exchange Headdresses of Friendship for Energy Drinks has been added!
To exchange Headdresses of Friendship for Energy Drinks, access the "Sell Items" page available from the Menu and click on the Headdress of Friendship.
Energy Drinks Limited Item Packs have been reset!
"Moe Cafe Event" Rewards
Rewards have been sent to users' gift boxes.
The following Gacha have ended:
Read the Past News.
Latest activity
Edit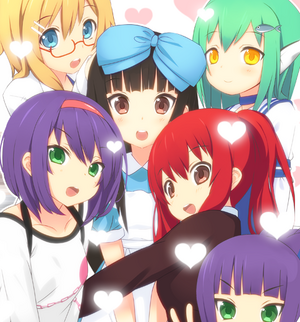 MOE Can Change! Cute girl raising game with over 1.5 million users in Japan now in English!
Event in progress:
Knitting Frenzy

Latest Gacha:
MCC World Grand Prix Gacha

The Forums
You can find the MOE Can Change! Wiki's Forums here. Click here to create your own account.
Forum Activity
Poll
What is your favorite type?