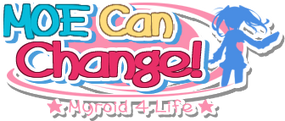 Welcome to the MOE Can Change! Wiki
Featured Pages
Raising your MyRoid

Edit

Daily Events

Edit

Player Resources

Edit
Latest News & Updates

2016-09-04
Edit
New Event!
Gacha!
Energy Drinks Limited Item Packs have been reset!
"AMB Com-PANIC!" Event Rewards & After Event Page
Rewards have been sent to users' gift boxes.
The "AMB Com-PANIC!" After Event Page will be available for 48 hours after the last maintenance ended.
Read the Past News.
Event in progress:
Latest Gacha:

The Forums
You can find the MOE Can Change! Wiki's Forums here. Click here to create your own account.
Forum Activity
Monthly Poll
Anna(loosely based on notices):"Please, eat me"..."Yes, I'll marry you"..."Chie..I..."