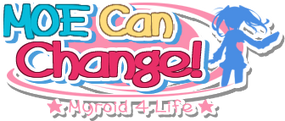 Welcome to the MOE Can Change! Wiki
Featured Pages
Raising your MyRoid

Edit

Daily Events

Edit

Player Resources

Edit
Latest News & Updates

2016-08-18
Edit
New Event!
Gacha!
Energy Drinks Limited Item Packs have been reset!
"Moe Summer Festival" Event Rewards & After Event Page
Rewards have been sent to users' gift boxes.
The "MOE Summer Festival" After Event Page will be available for 48 hours after the last maintenance ended.
Read the Past News.
Event in progress:

Latest Gacha:
The Forums
You can find the MOE Can Change! Wiki's Forums here. Click here to create your own account.
Forum Activity
Monthly Poll
Do you like the way Introductions are now hidden in "Information" tabs?