Home
Talk

0
219pages on
this wiki
Welcome to the MOE Can Change! Wiki
The MOE Can Change! Wiki is a wiki for information, guides and news related to the game MOE Can Change! We're hard at work to ensure we provide the best resource for English speaking fans of MOE Can Change! On the internet, and are currently working on making this site look even better and easier to navigate via mobile devices.
What is MOE Can Change?
"
MOE Can Change! is a fun game that will allow you to create and raise your own perfect girl. You will be able to change her looks, clothes and personality, have conversations, go out and share a lot of wonderful moments together♪
"

–Doc,
Featured pages
Edit
News & Updates
Edit
2015-02-25
Edit
New event!
New Gacha!
Energy Drinks Limited Item Packs have been reset!
"Love, MyRoid & Chocolate Event" Rewards
Rewards have been sent to users' gift boxes.
Late Valentine Presents!
Valentine Chocolates which MyRoids were working on in secret have been delivered to users' Gift Boxes.
One chocolate per MyRoid has been sent.
5th MyRoid has been added!
It is now possible to raise a 5th MyRoid after reaching Level 160.
Level requirement for the 4th MyRoid has been changed from level 150 to level 120.
The following Gacha have ended:

Read the Past News.
Latest activity
Edit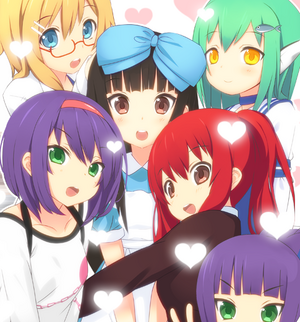 MOE Can Change! Cute girl raising game with over 1.5 million users in Japan now in English!
Event in progress:
Singing Contest

Saturday: Kanna's Secret Shop is Open!


Latest Gacha:
Retro Romance ~High Color~
Crème Pattisiere
The Forums
You can find the MOE Can Change! Wiki's Forums here. Click here to create your own account.
Forum Activity
Poll
Will you try building a snow sculpture?