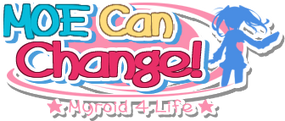 Welcome to the MOE Can Change! Wiki
Featured Pages
Raising your MyRoid

Edit

Daily Events

Edit

Player Resources

Edit
Latest News & Updates
2015-10-01
Edit
New event!
New Gacha!
Energy Drinks Limited Item Packs have been reset!
"Worn-Out Goddess"Event Rewards
Rewards have been sent to users' gift boxes.
The following Gacha have ended:
"Worn-Out Goddess" After Event Page
The "Worn-Out Goddess" After Event Page will be available until:
EDT: October 4th 02:30
PDT: October 3rd 23:30
GMT: October 4th 06:30
Auto-Change Added
An Auto-Change function has been added!
Set three different outfits for your MyRoid to automatically change into at different times of the day!
You can find the Auto-Change settings at the top of the regular Costume Change page.
Read the Past News.
Latest activity
Edit
Event in progress:

Latest Gacha:

The Forums
You can find the MOE Can Change! Wiki's Forums here. Click here to create your own account.
Forum Activity
Monthly Poll
How often do you buy Energy Drinks?